ABOUT
The subject of "famous places" was one of the most influential topics in the development of landscape imagery in Japan and was initially linked to courtly poetry practices that named and praised significant sites. By the later eighteenth century, savvy commercial publishers adapted the theme to create a new set of famous locales in the city of Edo and more distant must-see destinations. Later, modern print artists referenced the landscape tradition established in ukiyo-e prints when they selected famous sites for their own work, some reflecting the changes of the twentieth century, some promoting sites of national importance, and still others reimagining what constituted "landscape" and the "famous place" in Japan as well as in the world beyond. This exhibition brings together twentieth-century prints on this theme, with works selected from the holdings of the Philadelphia Museum of Art, the University of Pennsylvania Library, and private collections.
MODERN JAPANESE PRINTS CURATORIAL SEMINARS
Spring 2014 & Spring 2015
This exhibition was the culmination of two curatorial seminars led by Professor Julie Davis and held in collaboration with the Arthur Ross Gallery. The Spring 2014 seminar was co-taught by Jeannie Kenmotsu and Quintana Heathman, Ph.D students in the Department of the History of Art, and funded by the Penn Curatorial Seminar; students on the curatorial team were: Petya Andreeva, Megan Czerwinski, Eileen Gao, Yae-jin Ha, Hillary Halter, Drew Hasson, Lynn Lees, Travis Mager, Anna Moblard-Meier, Ying Pan, Rissa Papillion, Harrison Schley, Kimberly Schreiber, and Lin Zheng. In Spring 2015, Davis and Shelley Langdale, Associate Curator, Philadelphia Museum of Art, taught the second curatorial seminar, with students on the curatorial team, including Haeyoon Chang, Kendra Grimmett, Katelyn Hobbs, Jenny Lu, Daria Melnikova, Anna Moblard-Meier, Olivia Pei, and Harrison Schley.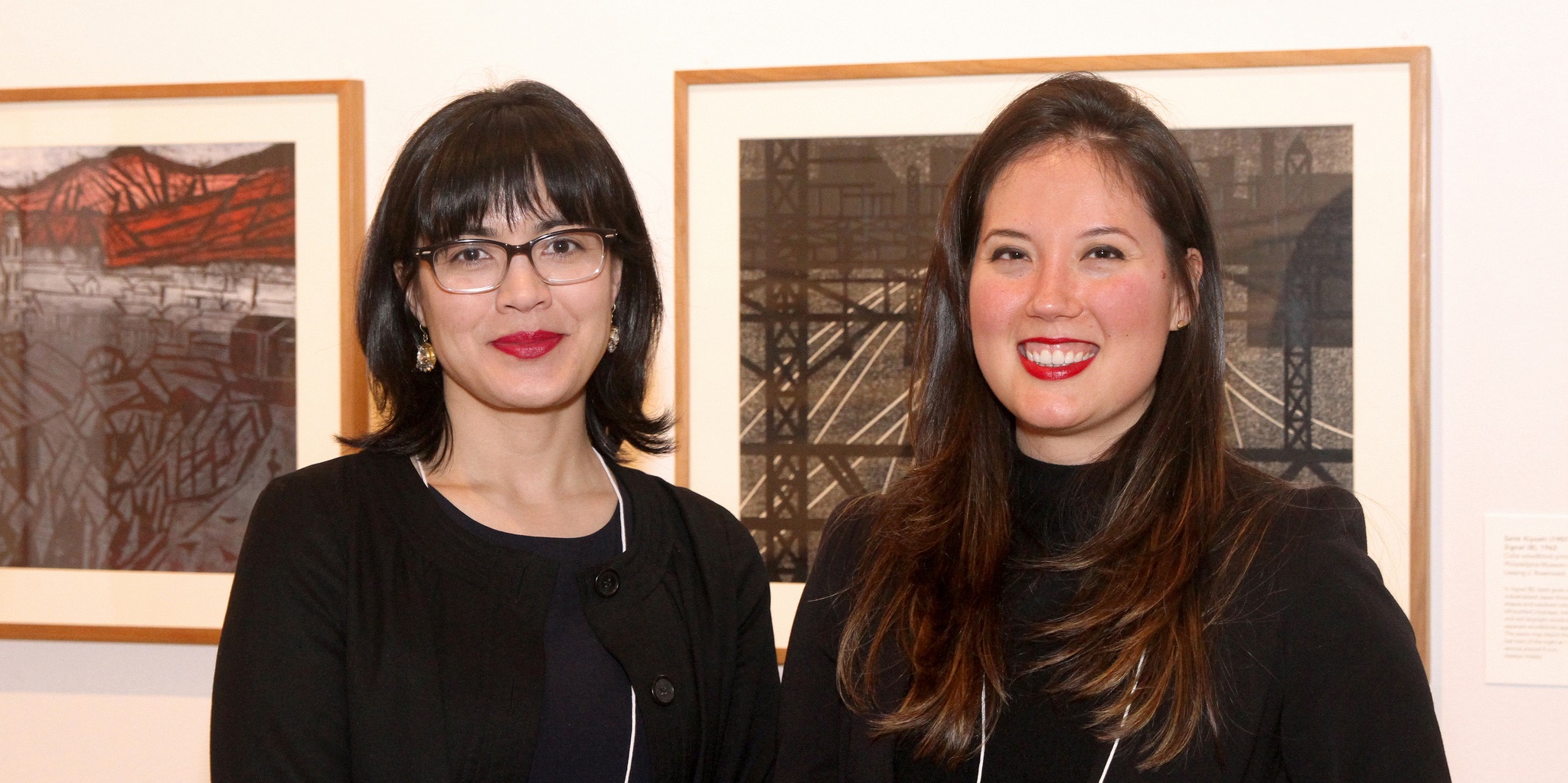 OPENING RECEPTION
Thursday, April 9th, 5:00–7:30 PM, Arthur Ross Gallery
On Thursday, April 9th, the Arthur Ross Gallery hosted the opening reception for A Sense of Place: Modern Japanese Prints. Attendees gathered over wine and other refreshments to celebrate the new exhibition. Lynn Marsden-Atlass, Gallery Director, and Julie Nelson Davis, exhibition curator and Associate Professor of the History of Art at Penn, delivered opening remarks. Co-curators Quintana Heathman and Jeannie Kenmotsu, both Ph.D. students in the History of Art at Penn, discussed the themes of the installation.
The show opened to the public the following day, Friday, April 10th, and remained open through Sunday, June 21st, 2015, at the Arthur Ross Gallery.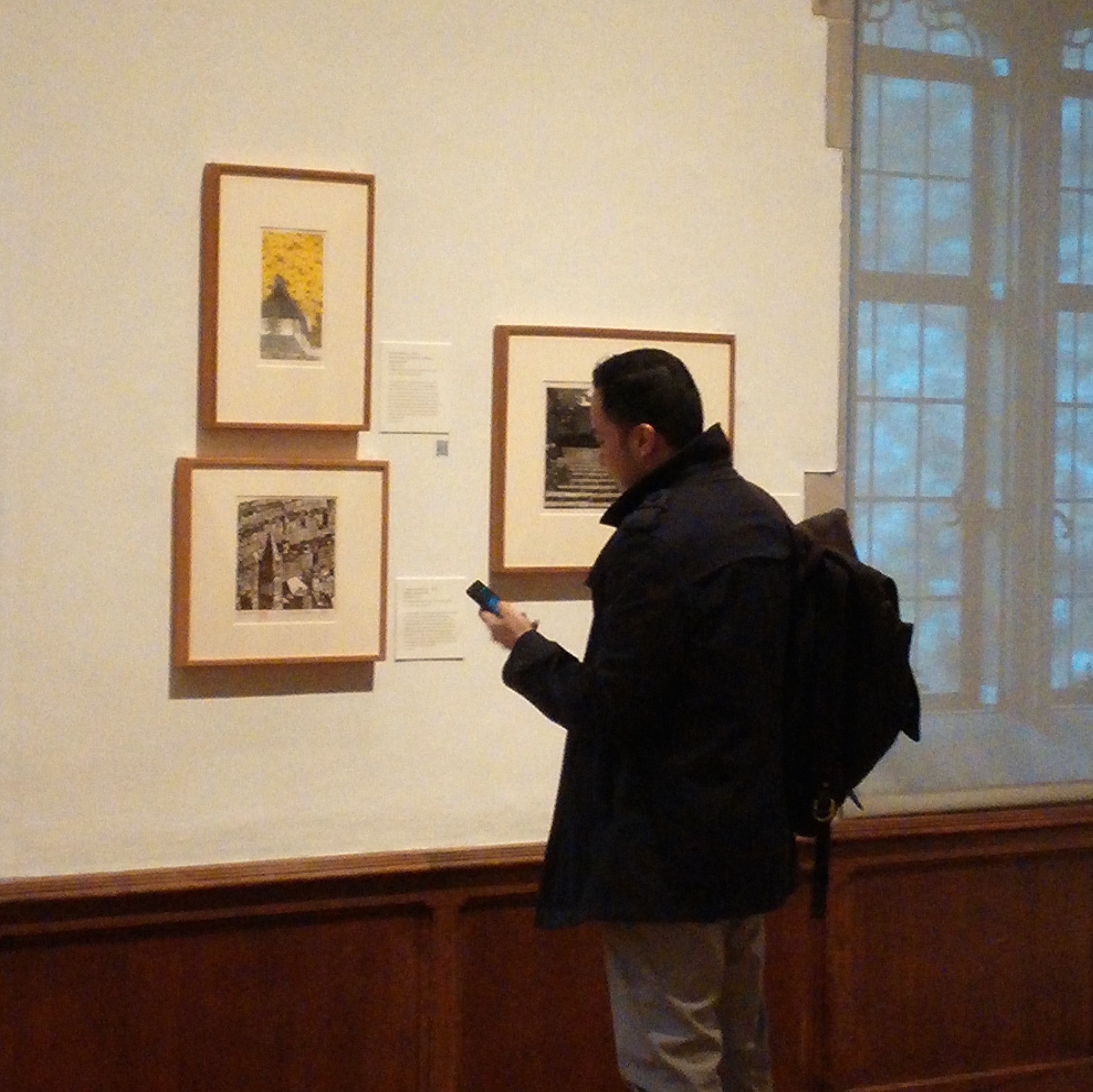 Saturday, April 18, 2015, 10:00 AM - 5:00 PM
This interdisciplinary symposium brought together scholars from around the country to put modern Japanese prints into the broader historical, social, and artistic contexts of the twentieth century. It accompanied the exhibition A Sense of Place: Modern Japanese Prints at the Arthur Ross Gallery, which investigates how modern print artists referenced the tradition of famous places (meisho) established in earlier prints when they selected famous sites and landscapes for their own work. A special roundtable session with collectors and dealers considered the important place of collecting in the history of modern Japanese prints and continued interest today in twentieth-century printmaking. A companion exhibition, Representing Modern Japan: The Luber Collection of Art Books, was on display in the Kislak Center's Goldstein Family Gallery and will remain on view until June 12, 2015..
The symposium took place in the Class of 1978 Orrery Pavilion, Kislak Center for Special Collections, Rare Books and Manuscripts, Van Pelt-Dietrich Library Center.
PROGRAM:
New Scholarship
On Saturday, April 18th, the symposium "A Sense of Place: Modern Japanese Prints in Context" brought together a number of leading scholars on Japanese art, history, and culture. Their talks broadened the scope of the exhibition at the Arthur Ross Gallery and contextualized the work on display.
Information on recent publications from many of our symposium speakers can be found below, along with special discount codes.
Water and Shadow: Kawase Hasui and Japanese Landscape Prints
Edited by Kendall H. Brown. With essays by Kendall H. Brown, James King, Koyama Shūko, Shimizu Hisao, and Miya Elise Mizuta.
Known as Japan's premier "poet of place," Kawase Hasui is one of the most popular landscape artists of the twentieth century. This richly illustrated catalogue spans Kawase Hasui's most imaginative period—the years from 1918 to the Great Earthquake of 1923. An important contributor to the early shin-hanga (new print) movement, Hasui crafted distinctive landscapes that also recall artistic traditions ranging from ukiyo-e and French Japonisme to Post-Impressionist painting.
Water and Shadows is based on the unparalleled collection donated to the Virginia Museum of Fine Arts by René and Carolyn Balcer. These selections exemplify the creativity of Hasui's early work and reveal the dynamic interplay between his prints, graphic design, and rare but spectacular paintings. Five essays by leading scholars in North America and Japan explore Hasui's methods, art historical relationships, and themes as well as some socioeconomic aspects of the print business.
Download a PDF with more information and a 20% discount code
Partners in Print: Artistic Collaboration and the Ukiyo-e Market
By Julie Nelson Davis
This compelling account of collaboration in the genre of ukiyo-e (pictures of the floating world) offers a new approach to understanding the production and reception of print culture in early modern Japan. It provides a corrective to the perception that the ukiyo-e tradition was the product of the creative talents of individual artists, revealing instead the many identities that made and disseminated printed work. Julie Nelson Davis demonstrates by way of examples from the later eighteenth century that this popular genre was the result of an exchange among publishers, designers, writers, carvers, printers, patrons, buyers, and readers. By recasting these works as examples of a network of commercial and artistic cooperation, she offers a nuanced view of the complexity of this tradition and expands our understanding of the dynamic processes of production, reception, and intention in floating world print culture.
Four case studies give evidence of what constituted modes of collaboration among artistic producers in the period. In each case Davis explores a different configuration of collaboration: that between a teacher and a student, two painters and their publishers, a designer and a publisher, and a writer and an illustrator. Each investigates a mode of partnership through a single work: a specially commissioned print, a lavishly illustrated album, a printed handscroll, and an inexpensive illustrated novel. These case studies explore the diversity of printed things in the period ranging from expensive works made for a select circle of connoisseurs to those meant to be sold at a modest price to a large audience. They take up familiar subjects from the floating world—connoisseurship, beauty, sex, and humor—and explore multiple dimensions of inquiry vital to that dynamic culture: the status of art, the evaluation of beauty, the representation of sexuality, and the tension between mind and body.
Where earlier studies of woodblock prints have tended to focus on the individual artist, Partners in Print takes the subject a major step forward to a richer picture of the creative process. Placing these works in their period context not only reveals an aesthetic network responsive to and shaped by the desires of consumers in a specific place and time, but also contributes to a larger discussion about the role of art and the place of the material text in the early modern world.
Maximum Embodiment: Yōga, the Western Painting of Japan, 1912-1955
By Bert Winther-Tamaki
Maximum Embodiment presents a compelling thesis articulating the historical character of Yōga, literally the "Western painting" of Japan. The term designates what was arguably the most important movement in modern Japanese art from the late nineteenth to the mid-twentieth centuries. Perhaps the most critical marker of Yōga was its association with the medium of oil-on-canvas, which differed greatly from the water-based pigments and inks of earlier Japanese painting. Yōga encompassed both establishment fine art and avant-gardist insurgencies, but in both cases, as the term suggests, it was typically focused on techniques, motifs, canons, or iconographies that were obtained in Europe and deployed by Japanese artists.
Despite recent advances in Yōga studies, important questions remain unanswered: What specific visuality did the protagonists of Yōga seek from Europe and contribute to modern Japanese society? What qualities of representation were so dearly coveted as to stimulate dedication to the pursuit of Yōga? What distinguished Yōga in Japanese visual culture? This study answers these questions by defining a paradigm of embodied representation unique to Yōga paint- ing that may be conceptualized in four registers: first, the distinctive materiality of oil paint pigments on the picture surface; second, the depiction of palpable human bodies; third, the identification of the act and product of painting with a somatic expression of the artist's physical being; and finally, rhetorical metaphors of political and social incorporation. The so-called Western painters of Japan were driven to strengthen subjectivity by maximizing a Japanese sense of embodiment through the technical, aesthetic, and political means suggested by these interactive registers of embodiment. Balancing critique and sympathy for the twelve Yōga painters who are its principal protagonists, Maximum Embodiment investigates the quest for embodiment in some of the most compelling images of modern Japanese art. The valiant struggles of artists to garner strongly embodied positions of subjectivity in the 1910s and 1930s gave way to despairing attempts at fathoming and mediating the horrifying experiences of real life during and after the war in the 1940s and 1950s. The very properties of Yōga that had been so conducive to expressing forceful embodiment now produced often-gruesome imagery of the destruction of bodies. Combining acute visual analysis within a convincing conceptual framework, this volume provides an original account of how the drive toward maximum embodiment in early twentieth-century Yōga was derailed by an impulse toward maximum disembodiment.
Download a PDF with more information and a 20% discount code
Kawase Hasui: The Complete Woodblock Prints
By Kendall H. Brown with an essay by Watanabe Shōichirō. General Editor: Amy Reigle Newland. Catalogue Contributors: Inge Klompmakers, Merel Molenaar, Amy Reigle Newland, Okura Haruko, Dick N.W. Raatgever, Robert Schaap, and Chris Uhlenbeck.
Kawase Hasui (1883–1957) is considered the foremost Japanese landscape print artist of the 20th century. His work is characterized by a fascination with light, climatic conditions and tranquility. His oeuvre consists of over 700 designs of which the largest proportion was produced for the initiator of the Shin hanga ('new print') movement, Watanabe Shôzaburô. This publication illustrates his oeuvre in color including all the designs he produced for other publishers. The illustrations are predominantly taken from the two largest collections of Hasui prints in the world: the collections of Robert O. Muller, now housed in the Arthur M. Sackler Gallery of Art, and the Watanabe family. This bilingual publication includes essays by Kendall Brown and Shôichirô Watanabe, facsimiles of seals and signatures and a bibliography.
Originally published in 2003, this groundbreaking publication on the life and work of Kawase Hasui is now available with a DVD, which includes a 1950s film on the artist and the production of one of his designs, a process book displaying all stages in the creation of a Japanese woodblock print, and designs which have been discovered since 2003.
Download a PDF with more information and a 25% discount code
Hijikata Tatsumi and Butoh: Dancing in a Pool of Gray Grits
By Bruce Baird
Hijikata Tatsumi's explosive 1959 performance Forbidden Colors sparked a new genre of performance—butoh: an art form of contrasts, by turns shocking and achingly serene. Since then, interest has grown by leaps and bounds, and now people all over the world are drawn to butoh's ability to enact paradox and contradiction. However, knowledge of butoh's founder has lagged behind. Hijikata Tatsumi and Butoh traces the rollicking history of the creation and initial maturation of butoh, and locates Hijikata's performances within the intellectual, cultural, and economic ferment of Japan from the sixties to the eighties.
Mirroring the Japanese Empire: The Male Figure in Yōga Painting, 1930–1950
By Maki Kaneko
In this groundbreaking study of a subject intricately tied up with the controversies of Japanese wartime politics and propaganda, Maki Kaneko reexamines the iconic male figures created by artists of yōga (Western-style painting) between 1930 and 1950. Particular attention is given to prominent yōga painters such as Fujita Tsuguharu, Yasui Sōtarō, Matsumoto Shunsuke, and Yamashita Kiyoshi— all of whom achieved fame for their images of men either during or after the Asia-Pacific War. By closely investigating the representation of male figures together with the contemporary politics of gender, race, and the body, this profusely illustrated volume offers new insight into artists' activities in late Imperial Japan. Rather than adhering to the previously held model of unilateral control governing the Japanese Empire's visual regime, the author proposes a more complex analysis of the role of Japanese male artists and how art functioned during an era of international turmoil.
Download a PDF with more information and a 25% discount code